HI everyone,
Seeing as the last R6 front end conversion thread is dead for like 7 years, and no proof or finalization of the finished product, other that some photoshop images that the guy posted, I have decided to do an R6 conversion myself. Also his conversion was on a naked XJ6 essentially, while I intended to do it on a completely full fairing 2014 FZ6R. I did like however, that he listed all the items on his first post, and I will do the same.
The other guy, did an ok job with years, makes and model info. But, I am going to get more in depth on the technical side with dimensions and measurements.
Not only that, but I will be filming the process on my YouTube channel.
The first question you are going to ask is why. Answer: I crashed my FZ6R and bent both front forks and it is something I have been contemplating for a while. Also I am looking for more adjustments in the front end with better braking.
But either way you can expect finalization from my end, either good or bad. Hopefully successful !
Thanks and stay tuned.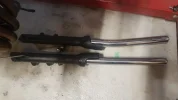 Last edited: